It's finally here! The Shape Song Swingalong by SteveSongs has just been released by Barefoot Books in paperback ($9.99) and hardcover ($16.99) format. Both versions include a watch-and-singlong (video and music) CD for your computer.
If you've watched PBS at all the past few years you may have already heard this song and gotten it stuck in your head. Here's a clip from PBS's Music Time with SteveSongs performing the song:
Line, line, circle, circle, square, square, square, triangle, triangle, line…

The next time I order books I will definitely be snagging a copy of this for my little guy. He's already a big fan of the
Driving My Tractor
and
Knick Knack Paddy Whack
singalong books, also sung by SteveSongs.
Publisher description: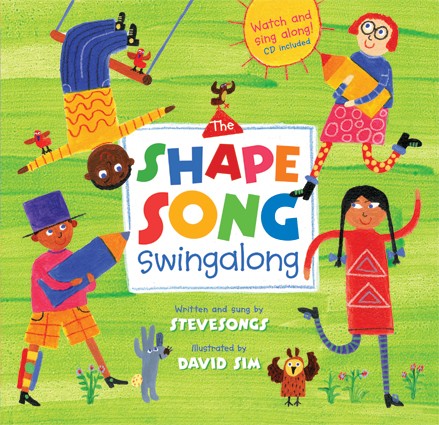 The Shape Song Swingalong
What can you make with a line, a circle or square? This inspiring book, based on an original song by children's singer SteveSongs, shows how simple shapes can be transformed into anything you can imagine from boats to skyscrapers to a circus. The catchy song and animation will soon have you dancing along, making shapes!
Book with enhanced CD includes an animated singalong performed by SteveSongs.
Ages 4 to 7 years
Written By: SteveSongs
Illustrated By: David Sim