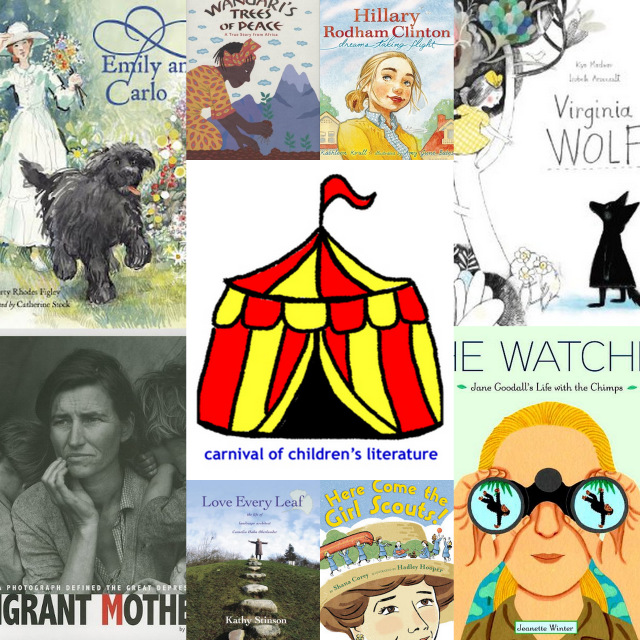 Welcome to the March 2012 edition of the Carnival of Children's Literature!
March started off with Dr. Seuss's Birthday and the release of The Lorax. I loved seeing everyone excited about Seuss, reading, and the environment this month because of that.  I, myself, received free tickets to The Lorax and took my son to see his first ever movie. While I still prefer the book and the 1972 animated special, I have to admit the movie was better than I expected. I hope many families were inspired to buy the actual book or check it out at the library.
More importantly, March is Women's History month! There's no doubting that when you see the fantastic lineup of reviews this month either. Yet, we still have a nice bit of variety outside of Seuss and women's history. I put a number of new titles on our MUST READ list and I think you will too after hopping through these posts.
Early Literacy
Fiction
Kate, the

Book Aunt

, stumbles upon a copy of Fly By Night by Randall Jarrell and illustrated by Maurice Sendak. Inspired, she discusses other book treasures from poet

Randall Jarrell and illustrator Maurice Sendak

.
Camille from

A Curious Thing

reviewed

Tumtum and Nutmeg by Emily Bearn

– one of her favorite read aloud bedtime stories.
Over at

Boys Rule Boys Read!

Iron Guy Carl clowns around by

reviewing 3 joke books

. I have just one question for Carl, what do you call cheese that doesn't belong to you? NACHO CHEESE! HAhahaaha!
Jeff of

NC Teacher Stuff

shares a review of You Choose by Pippa Goodhart as well as some activity ideas that would work well with the book.
In honour of International Women's Day, Polly from

The Little Wooden Horse

shares Ballet Shoes by Noel Streatfield with her sons and us.
Jen of

Perogies & Gyoza

reviews of a picture book loosely based on real-life sisters Virginia Woolf and Vanessa Bell, called

Virginia Wolf by Kyo Maclear

.
Can't forget March Madness! Anastasia celebrates by sharing

5 great basketball books

for beginning readers on her blog

Booktalking

.
Louise from

A Strong Belief in Wicke

r gives us a review of the 1960 Newbery Honor book, My Side of the Mountain.

Jen Robinson

shares a review of Starters, a new post-apocalypse dystopia for young adults, by Lissa Price over at

Growing Bookworms

.
Mary Ann from

Great Kid Books

shares a new favorite for beginning readers:

Penny and her Song, by Kevin Henkes.
Poetry
Nonfiction
Illustration
Interviews
Book Projects
I hope everyone had fun at this month's Carnival of Children's Literature. Join the fun again in April over at A Curious Thing!